Great Lakes Fish Tugs And Commercial Fishing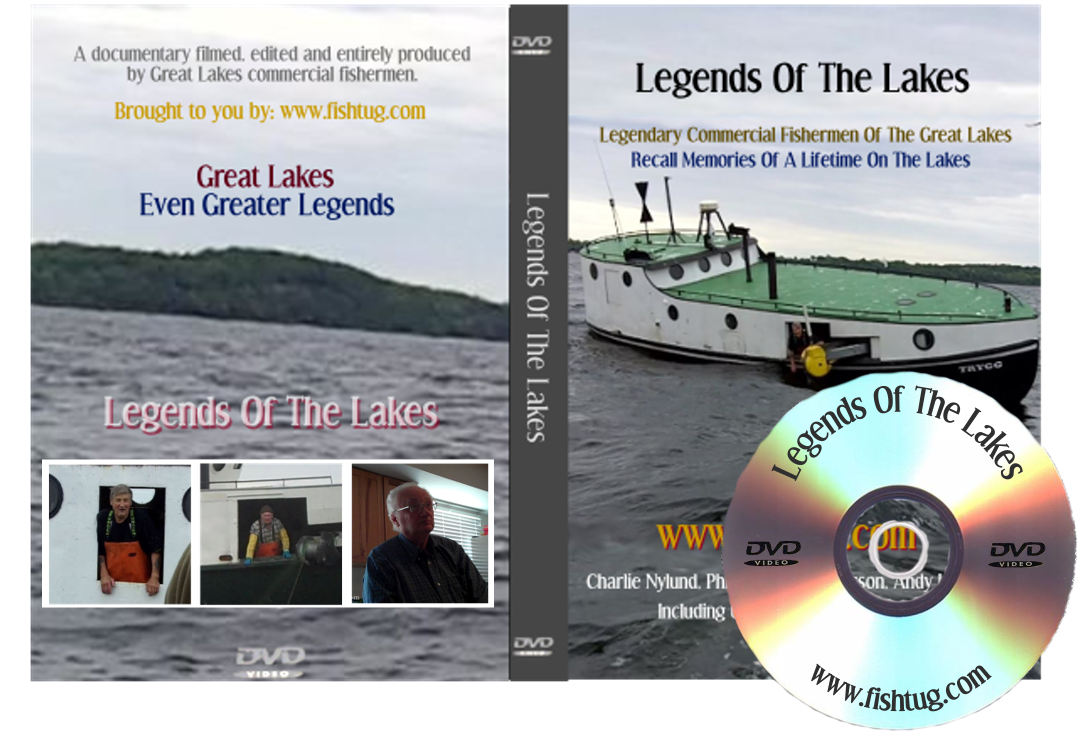 We have completed the 53 minute DVD Legends Of The Lakes.
If you are interested in having the full length DVD. here's a link to the packaged and ready to ship video.
Legends of the Lakes Full Length DVD.
We have checked our eligibility, all of the rules and requirements and are hoping to negotiate with PBS. We will be appearing on IMDB in the near future and have options to market the film to NetFlix, Google Play, iTunes and Hulu.
Broadcasters like PBS have a lengthy list of demands before airing an independent documentary or anything else they show. One requirement for both IMDB and PBS is that you have a website dedicated to just the film they will be airing.
With that in mind I made a Wordpress site solely for Legends of the Lakes. It is a subdomain of fishtug.com and here is a link if you're
interested in following the Great Lakes commercial fishing documentary. When you get there you'll see an image of a fish tug at the top of the page (header) Please give it a few seconds to load and the video will start to play. They don't have audio but it was still a cool feature. http://www.fishtug.com/legendsofthelakes/
...................................................................
We are scheduled to do a screening of "Legends Of The Lakes" along with a Q&A session at the State Of Lake Michigan Conference
on Nov, 8, 2017 at the Hyatt Conference Center Grand Ballroom in Green Bay, Wi.
Charlie, Andy And Philly be be there fielding questions about the Great Lakes commercial fishing industry as will we.
.....................................................................
I have added an events calendar to this page and probably will add one to the forums also.
Events will be things of interest to Great Lakes commercial fishermen. Dates included are screenings of "Legends Of The Lakes"
talks, Q&A sessions, stops on our promo tour and hopefully television air times/channels.
We have two events scheduled so far and will add many more shortly.
.....................................................................
Here's a link to another segment Legends Of The Lakes.
Phillip "Philly" Anderson , Charlie Nylund and Andy La Fond. That's the dream team when it is a Great Lakes
commercial fishing documentary you wish to make.
.....................................................................

Most of this site is accessible to anyone who's not a registered member. However some areas are only seen and available to registered members. If you'd like to access these areas register here.
A new feature has been added to the forums. Publications. We reproduce classics publications in their entirety.
Frank Prothero's Men 'N Boats is the bible of Great Lakes commercial fishing. This monolith is long out of print and virtually impossible to find.
Read it cover to cover here.
This is a link to the new Gallery There's plenty of interesting images for
Freshwater fish producers in the photo galleries.
Still hard at work on the documentary "Legends Of The Lakes"
Read more about this storm in Port Washington,Wi here
Here's a link to the Youtube channel for www.fishtug.com. New videos are posted regularly
Great Lakes Commercial Fishing
---
Click on the "Show More" to see long range events.
Click on the event in red letters to see the details of that event.
---
See these images and hundreds more in the forums and gallery.
Charlie Nylund fishing near the Peshtigo Reef in the Green Bay Waters.
Andy LaFond lifting Whitefish off of Bailey's Harbor,Wi.
The LeLond La Fond inbound at Algoma,Wi (Photo courtesy the Wade Wilke Collection.)
The Voight Bros inbound at Gill's Rock,Wi.
Dan Anderson and the Alicia Rae Winter towing another fish tug.
Charlie Nylund takes a roll in the Trygg.
Charlie Nylund on the Green Bay Waters. A beautiful day near the Wisconsin. Michigan border at the Peshtigo Reef.
Andy LaFond Jr lifting on the Oliver H Smith off of the Door Peninsula.